Things I learned in the last few days:
"paczki's" are polish pastries (sort of jelly filled donuts) that are served on Fat Tuesday. Someone was surprised when I had not heard of them. Apparently Cleveland is SO POLISH that its weird not to know this. I suppose it is sort of like being from Duluth and knowing what Lutefisk and Lefsa are. But really, Polish Paczki's are very similar to the apricot "krapfen" I was fed in Austria.
"rap groups" exist. Apparently. I mean, when it turned out the answer to this "rap group" question was Beastie Boys it made sense, I am not sure what else you would call them (of course my knowledge is based on the one song of theirs I know from Rock Band)... but I always think of rap artists, not rap groups. I prefer rap artists I think.
I also meant to post about Oscar Fashion, there were some beautiful dresses, fewer totally ugly things that normal. Here is Mila Kunis, love the dress on her but I could never pull it off:
Then there is this beauty. I mean, I wish I could have looked this adorable when I was 14...
Don't get any ideas Benjamin, I am sure she is too tall for you.
And here we have my pick for worst dressed. One person described it as looking like she had spilled mustard on her shoulders and back, I have to agree. The colors are so hideous together, and this is coming from ME, queen of mismatched.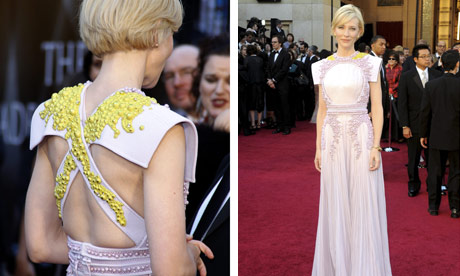 One last comment, this is Helena Bonman Carter, she is Tim Burton's wife and appears in most of his movies. I don't like this dress, but was surprised by how tame it is compared to her normal get-up. Perhaps actually being nominated calmed her down?
Here is an example of what I mean by crazy outfits:
The interesting thing to me is that the media hardly even comments on her get up. I think she has just made it so clea that she doesn't give a damn what the fashion experts or media say about her clothes that they don't even bother. She is cast off as an "eccentric" who shouldn't be expected to wear something anyone else will like.